Hello Unilang members,
I want to spread the Gothic language so one way might be to start teaching you Gothic here. The lessons are quite extensive!
Introduction
The Gothic language is delivered to us by the Gothic Bible of Wulfila. Although he used the Greek syntax mostly (not completely, but the native Gothic syntax will be dealt with in a lesson too), we know the native morphology, words and other grammar like verbs.
The Goths were tribes from Scandinavia which moved south and east from there. The Ostrogoths settled in modern day Italy, Ravana and the Visigoths in Spain. It was in Ravana that the Gothic Bible was most likely written for the Ostrogothic king Theodoric the Great.
The Gothic language is written in a special and own language with it's own alphabet, based on Greek, Latin and Rune signs, if you have Gothic unicode enabled, you can read them at the Gothic wikipedia, here you can see the alphabet: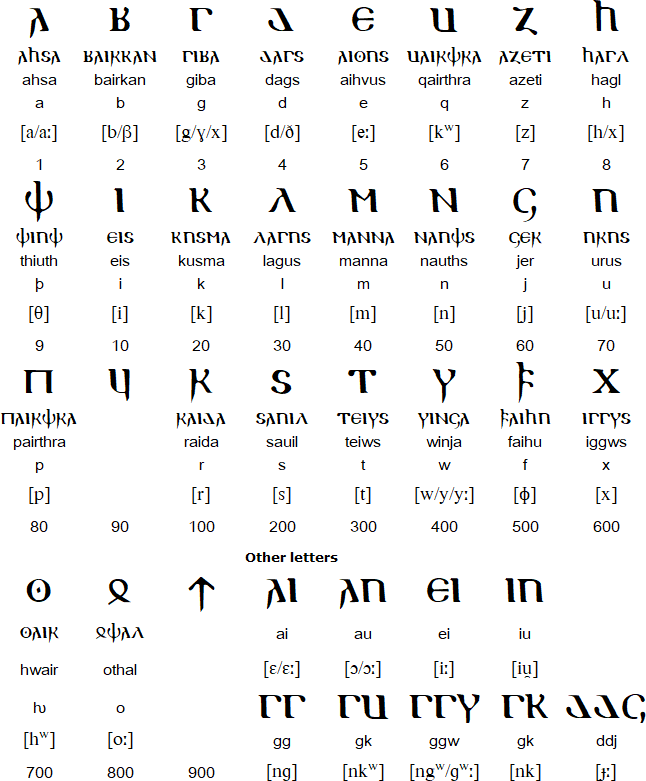 The Gothic language isn't spoken anymore and it probably went extinct around the 10th century. What we have of Gothic are:
- The Gothic Bible, written by Wulfila
- A Gothic Calendar
- The Naple Deeds, some short writings from Italy which were translated from Latin in Gothic
- The Skeireins, a valuable explanation of the Gothic Bible, written to clarify it. It is maybe the only extensive native Gothic writing which we have, although linguists don't agree on the nature of the writing, although it is based on a Greek book originally it isn't a word-for-word translation like the Bible of Wulfila.
It is recommended to have good knowledge of German to do this course, as you will see that a lot of aspects of Gothic are actually similar to German and German can be a good reminder.
Lesson 1
The articles are the most important aspect. Native Gothic didn't use definitive or undefinite articles and where the Greek uses definitive articles the Gothic text uses the demonstrative pronouns:
sa (male), so (female), þata (neutral)
These are all the nominative singular, which mean "the". Gothic uses more forms, but we will learn them later and when we have more knowledge of the cases it will become easy, because they actually are quite similar in the way in which they decline! But first you have to know these words and forms.
Native Gothic didn't use personal pronouns often, just like Spanish, but in the Gothic bible they occur. The personal pronouns we will learn in this lesson are:
ik - I
þu - you
is/si/ita - he/she/it
weis - we
jus - you (plural)
eis - they
Gothic was a Germanic language where the
s
still was used a lot, but in other Germanic languages it often shifted to
r
. If you know German, it will help you to remember that:
is = e
r
weis = wi
r
There are also personal pronouns to say that 2 persons are concerned, so we are (we two) and you are (you two), but we will come back later at this!
The dative form occurs often, they aren't difficult to learn, these are:
mis - me
þus - you
imma/imma/izái - him/it/her
unsis - us
izwar - you
im - them
Remember the
s
to
r
rule? mis = mir in German, just as þus = dir (the u shifted too) in German. Imma can be remembered by looking at English 'him', but you need to past
a
after it. The plural form of imma can be formed by just omitting the
a
.
Unsis and izwar need to be learnt by heart.
Let's start with a simple sentence:
jah qaþ du im
jah = and
qaþ = said
du = to
im = them
jah is a word which you will see often. Qaþ is the preterite, or past time of qiþan. You have different verbs in Gothic, the ones with a regular conjugation are: -jan and -on verbs. This verb is irregular, but used a lot, this is why we deal with it in lesson 1. This verb belongs to the Va class, which consists of more verbs with -an. For the conjugations of verbs I use the website Verbix, which can be found here
http://www.verbix.com/languages/gothic.shtml
, it's really useful to conjugate verbs in Gothic and it also reconstructs verbs of which we don't know all forms anymore based on regular forms of the class it belongs to.
The conjugation of the present tense of qiþan (to say) is:
ik qiþa - I say
þu qiþis - you say
is qiþiþ - he says
weis qiþam - we say
jus qiþiþ - you say (plural)
eis qiþand - they say
These are often how you form the verbs:
-a, -is, -iþ, -am, -iþ, -and.
We will learn the dual form (2 persons) later, but remember these, they are the most important ones!
The past tense is:
ik qaþ - I said
þu qast - you said
is qaþ - he said
weis qêþum - we said
eis qêþun - they said
Usually, the
ik
and
is
form are exactly the same, so you need to only learn one form to use both. Usually with
-an
verbs, you will see that the
you
form has this ending: -st
This is also used in the present tense of modern German: du mach
st
, du lauf
st
, du schick
st
The -an verbs also use weis -um and eis -un. This can be remembered by the present tense: qiþ
am
and qiþ
an
d. The
a
changes to
u
.
Let's try to read the sentence again:
jah qaþ du im
qaþ = said (is qaþ)
im = them (the dative of they)
We see the word
du
, this word gives the dative case when it is used for nouns or personal pronouns. Examples:
du imma
,
du þus
The word means
to
in English.
A word-by-word translation is: and said to him
The sentence can be translated as: and he said to him
Let's take another sentence which you can partly read now:
jah þata izwis taikns
Luke 2:12
jah, do you remember it? And. þata is the article or demonstrative pronoun which we saw earlier. Maybe you remember the gender of the word: neutral. Izwis is a word which you might remember from the list of dative forms of personal pronouns.
izwis
means
to you (plural)
.
Now there is one word left: taikns. Taikns means 'sign' in Gothic.
Now we can translate the phrase:
and - that - to you - sign
The biblical translation is: And this shall be a sign unto you
Congratulations! You read your first Gothic phrases.
Now let's do some exercises, try to do your exercises in a text editor or on paper, after you are finished, open the spoiler and look if your answers are correct:
Try to translate these words:
jah
þu
du
taikns
qaþ
qiþa
is
eis
and
you
to
sign
said
I say
he
they
Here are some word reminders for the next exercise without their English meaning:
jah, is, qaþ, þu
Try to say:
1. He said to you
2. I and you
3. A sign to you
4. He said that
5. He said it
The answers:
1. Qaþ du þus
2. Ik jah þu
3. Taikns du þus
4. Qaþ þata
5. Qaþ ita