Hi there, I'd like to introduce you my most advanced conlang : Deyryck or Dèyrik.
Why is there two different spelling?
Actually Deyryck is the original spelling I gave to this language whereas Dèyrik is the way it is spelled with the language itself (or actually with the keyboard translation of its alphabet).
Context :
The Deyryck is, before everything, a language that is used in my conworld. It is supposed to be an interstellar language that can be used by any species anywhere at anytime. This involve some weird way to deal with some words.
It is the official language of the Ikian empire which is the greatest interstellar empire in my conworld. The exact name of this language is "Tahari Dèyrik" which would be translated : "The earthly Deyryck". It is the last form (but definitely not the first) of this language and is introduced during the same time the earth's been created.
Phonology :
Basically the Dèyrik is able to translate any sound you want, but let's take it that it can't for now.
The consonants are divided into two type of categories : weak-ones and strong-ones. Each weak-ones is corresponding to a strong-ones (this isn't true in the opposite way)
The strong-ones :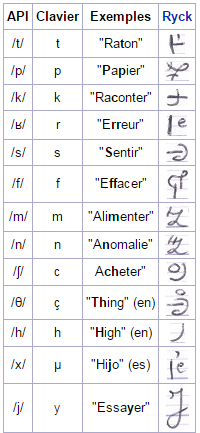 As it is in french, here's the translation of the headers :
IPA / Keyboard / Examples / Ryck

Examples aren't that much useful for they're in french (except for some of them).
Ryck is the name of the alphabet.
The weak-ones :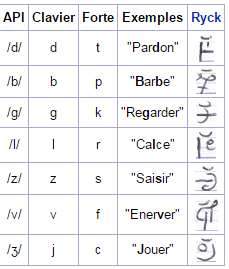 As you might see another column appear in this picture.
This column is the corresponding "strong-ones" column.
These weak-ones can also have weaker-ones corresponding to them :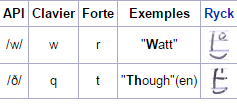 And then comes the vowels :

Pronouns :
I'll come back to them later as they're quiet more complicate than what I'm going to show here, but here they are :
I : First person singular (I)
Ti : Second person singular (You)
Aro : Third person singular (He or She)
Cèr/Tcèr : First person plural (We)
Lo : Second person plural (You (pl))
Arès : Third person plural (They)
Idéta (Id) : Third person singular imp (It)
Gû : Impersonal pronoun (It)
Now, these pronoun are in most of the case the same every where.
So "I" might translate I, Mine, Me, My, and so on.