I would like to put in this thread everything related to the Ladin language (books, courses, useful links, etc.).
The Ladin language is a Romance language spoken by about 30000 people in the Dolomites, amazingly beautiful mountains in Northern Italy. I love this part of the world, and I love the language the people speak. I've been different times in the Dolomites, but I cannot speak the Ladin language.
Children speak Ladin untill they go to school, where they learn to speak Italian and German. The three languages are official languages of this part of Italy, and usually people - except the elders - speak all of them fluently.
Here are three maps. In the first one a view of Italy. The Ladin language is spoken in the red part of North-East Italy. In this map it is called "Ladino dolomitico" (Dolomitic Ladin), in order to distinguish it from the Friulan language, which is sometimes called "Ladino Friulano" (Friulan Ladin):
In the second a view of Northern Italy and the part of it where Ladin is spoken: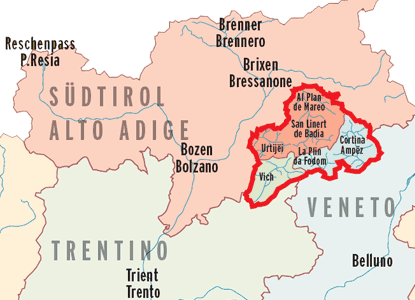 In the third there's a closer view of the area in which the Ladin is spoken. The different colors indicate the five varieties of the language:
The Ladin language, along with Romansh (Rumantsch) and Friulan, forms the so called Rhaeto-Romance group of languages, as can be seen here:
There is a grammar of the Ladin language, but unfortunately it is written in the Ladin language!
It can be donwloaded here:
http://www.spell-termles.ladinia.net/do ... S_2001.pdf
The Ladin language described in this work is a koiné derived from the different varieties spoken in the valleys of the Dolomites.
Omniglot page about the Ladin language:
http://www.omniglot.com/writing/ladin.htm
I've found this great site, but it is only in Italian:
http://www.ladintal.it/